What should I know about the Omicron variant?
Omicron: There is still much to learn.
Symptoms of COVID-19 Omicron variant can look more like allergies:
Sneezing
Head/Ear pressure
Runny nose
Headache
Fatigue
Sore throat
Is Omicron more transmissible?  There is some preliminary evidence suggesting the omicron variant is more infectious than the delta variant.
Does Omicron cause more severe illness? There is still limited data on this, but so far the answer appears to be no.
Do masks work against Omicron? Upgrading your mask can improve the protection it offers you. Disposable medical grade masks and KN95 masks work significantly better than cloth masks. Remember – it is all about how snug it fits to your nose and mouth.
Do monoclonal antibodies work against Omicron? Unfortunately, it's now also apparent that the two most commonly available monoclonal antibodies are much less effective against the omicron variant. Sotrovimab seems to be the only monoclonal antibody treatment currently still effective against the variant, but it's not widely available right now.
What can we do?  The best way to stay safe from COVID-19 — the omicron variant included — is to be aware of your surroundings and community spread in your area, as well as exercise the COVID-19 precautions that we know work, including:
Getting vaccinated and
Getting your COVID-19 booster once eligible and
Wearing a mask and
Social distancing in indoor public spaces and
Avoiding indoor crowds and
Washing your hands and avoiding touching your face
Schedule your vaccine appointment here at one of many locations!
What should I know about the Delta variant?
Symptoms of COVID-19 Delta variant can look more like allergies:
Headache
Sore throat
Runny nose
Fever
Persistent cough and loss of taste and smell are not as prevalent with Delta.
According to the CDC:
The Delta variant is more contagious: The Delta variant is highly contagious, more than 2x as contagious as previous variants.
Some data suggest the Delta variant might cause more severe illness than previous strains in unvaccinated persons. In two different studies from Canada and Scotland, patients infected with the Delta variant were more likely to be hospitalized than patients infected with Alpha or the original virus strains.
Unvaccinated people remain the greatest concern: Although breakthrough infections happen much less often than infections in unvaccinated people, individuals infected with the Delta variant, including fully vaccinated people with symptomatic breakthrough infections, can transmit it to others. CDC is continuing to assess data on whether fully vaccinated people with asymptomatic breakthrough infections can transmit. However, the greatest risk of transmission is among unvaccinated people who are much more likely to contract, and therefore transmit the virus.
Fully vaccinated people with Delta variant breakthrough infections can spread the virus to others. However, vaccinated people appear to be infectious for a shorter period: Previous variants typically produced less virus in the body of infected fully vaccinated people (breakthrough infections) than in unvaccinated people. In contrast, the Delta variant seems to produce the same high amount of virus in both unvaccinated and fully vaccinated people. However, like other variants, the amount of virus produced by Delta breakthrough infections in fully vaccinated people also goes down faster than infections in unvaccinated people. This means fully vaccinated people are likely infectious for less time than unvaccinated people.
What can we do?
The COVID-19 vaccines authorized in the United States are highly effective at preventing severe disease and death, including against the Delta variant. But they are not 100% effective and some fully vaccinated people will become infected (called a breakthrough infection) and experience illness. For such people, the vaccine still provides them strong protection against serious illness and death.
Schedule your vaccine appointment here at one of many locations!
What should I do if I feel sick?
Symptoms:
Cough
Shortness of breath
New loss of taste or smell
Fatigue
Fever
Chills
Headache
Sore throat
Muscle or body aches
Congestion or runny nose
Diarrhea
Nausea or vomiting
If you develop these symptoms or have been in close contact with a person known to have COVID-19, call Health Services or your primary healthcare provider.
Faculty and staff should contact Employee Health at 662-915-6550 for additional information.
Students should contact Student Health at 662-915-7274 for additional information.
You can also contact Baptist Memorial Hospital's 24-hour hotline for additional information – 866-941-4785.
How do I report my positive COVID-19 result?
There are two ways this can be done.
OR
Students: Call Student Health at 662-915-7274 (Mon, Tues, Wed and Fri, 8 a.m.–5 p.m.; Thurs, 8 a.m.–4 p.m.)
Employees: Call Employee Health at 662-915-6550 (Mon–Fri, 8 a.m.–5 p.m.)
Where can I get tested for COVID-19 in Oxford?
Besides University Health Services, here are some other clinics in town where you can be tested:
County Health Department Drive-thru Sites
Sign up here: https://covidschedule.umc.edu/
Family Medicine Group of Oxford
1397 Belk Blvd, Oxford, Mississippi
(662) 236-4675
Monday-Thursday 8am-7pm
Friday 8am-5pm
Saturday 9am-3pm, Sunday closed
__________________
MedPlus
1801 Jackson Ave West, Suite B-104, Oxford, Mississippi
(662) 715-3000
Monday-Friday 8am-8pm
Saturday 9am -8pm
Sunday 11am-8pm
__________________
Ole Town Med
2580 Jackson Avenue West Suite #44, Oxford, Mississippi
(662) 234-9112
Monday – Friday: 8am – 8pm
Saturday 10am – 4pm
Sunday 12pm – 6pm
__________________
Oxford Family Clinic
1914 University Avenue, Oxford, Mississippi
(662) 238-7860
Monday thru Thursday 8am to 5pm
Friday 8 am to 12 pm
__________________
Oxford Urgent Care
1929 University Ave., Oxford, Misissippi
(662) 236-2232
Open 7 days a week, 8am to 7pm
__________________
RedMed, LLC
1902 B West Jackson Avenue, Oxford, Mississippi
(662) 234-6464
Monday-Friday 7am-7pm
Saturday 9am-5pm
Sunday 1pm-5pm
Walgreens
Sign up here: https://www.walgreens.com/findcare/covid19/testing?ban=covidfy21_newtestingpg_heroban
CVS
Sign up here: https://www.cvs.com/minuteclinic/covid-19-testing
What is the current guidance for isolation and quarantine?
Please remember that vaccination remains the primary public health prevention strategy to end transmission and allow for safe participation of in-person classes and sponsored activities.
ISOLATION
MSDH recommends individuals who test positive for COVID-19 be excluded from the college setting and remain in Isolation for a full 5 days, even if you have been vaccinated. Stay home until at least 5 days have passed since symptoms began (or since positive test if you have no symptoms) AND you have no more symptoms or your symptoms are improving with no fever.
QUARANTINE
What is an exposure?
The current definition of exposure to COVID19 remains 15 minutes of cumulative contact over a 24-hour period at <6 feet. An infected person can spread COVID-19 up to 2 days before they have symptoms or 2 days prior to positive test if they have no symptoms, therefore, contacts should be identified who were exposed up to 2 days prior to onset or test date accordingly.
Who doesn't have to quarantine?
Fully vaccinated persons in close contact with an infected person do NOT have to quarantine unless they develop symptoms.  Fully vaccinated persons are recommended to receive COVID-19 testing on day 5 after exposure to rule out infection.
People who have tested positive for COVID-19 within the past 3 months and recovered do not have to quarantine or get tested again as long as they do not develop new symptoms.
How do I come out of quarantine?
Students, faculty, and staff who are not fully vaccinated and are identified as close contacts to COVID-19, as outlined above, should be in Quarantine for 5 days and test on day 5.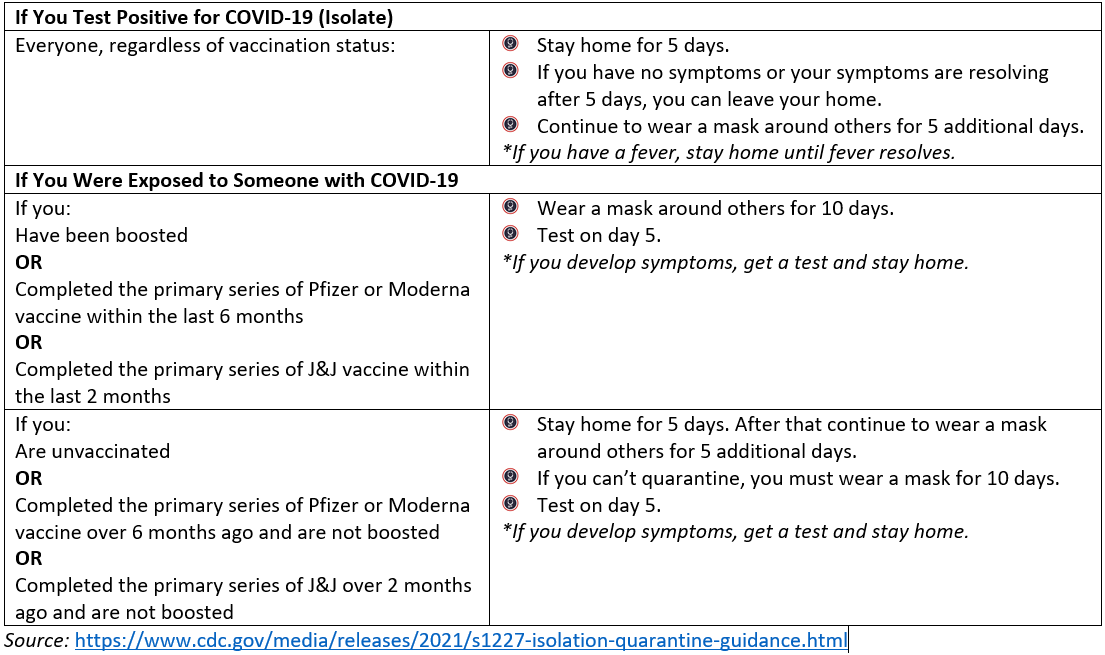 For more information, please review the MSDH Guidance on Quarantine and Isolation.
When should I seek medical attention?
If you have any of these emergency warning signs* for COVID-19, get medical attention immediately:
Trouble breathing
Persistent pain or pressure in the chest
New confusion or inability to arouse
Bluish lips or face
*This list is not all inclusive. Please consult your medical provider for any other symptoms that are severe or concerning to you. Call 911 if you have a medical emergency: Notify the operator that you have, or think you might have, COVID-19. If possible, put on a cloth face covering before medical help arrives.
Vaccines & other prevention strategies
Employees and students can walk-in any day to Pharmacy Health Services inside University Health Services for free COVID-19 Vaccines.
The best way to help prevent infection is to avoid being exposed to the virus, and the Centers for Disease Control and Prevention (CDC) recommends a number of preventive actions to follow including:
GET VACCINATED. Sign up at one of the many drive-thru sites in Mississippi here.
Wear a mask indoors or when in tightly packed groups with others.
Wash your hands often with soap and water for at least 20 seconds. Use an alcohol-based hand sanitizer that contains at least 60% alcohol if soap and water are not available.
Avoid touching your eyes, nose and mouth with unwashed hands.
Stay home when you are sick.
Clean and disinfect frequently touched objects and surfaces.
These are everyday habits that can help prevent the spread of several viruses.
Do I need monoclonal Antibodies?
What are monoclonal antibodies?
Monoclonal antibodies are laboratory-made proteins that mimic the immune system's ability to fight off harmful pathogens such as viruses. It has been approved for emergency use authorization by the U.S. Food and Drug Administration to prevent the progression of COVID-19 in high risk groups. They may block the virus that causes COVID-19 from attaching to human cells, making it more difficult for the virus to reproduce and cause harm. Monoclonal antibody treatment for COVID-19 must be administered in the early stages of infection for the drugs to work effectively.
Can anyone get them?
The MSDH just released a standing order that allows eligible healthcare providers the authorization to administer REGEN-COV monoclonal antibodies to adults and adolescents 12 years of age and older weighing at least 40 kg with positive results of direct SARS-CoV-2 testing within 10 days of symptom onset. They must also meet any of the criteria below:
Older age (for example, age>65 years of age)
Obesity or being overweight
Pregnancy
Chronic kidney disease
Diabetes
Immunosuppressive disease or immunosuppressive treatment
Cardiovascular disease or hypertension
Chronic lung diseases (COPD, asthma, pulmonary hypertension, etc.)
Sickle cell disease
Neurodevelopmental disorders
Having a medical-related technological dependence
Other medical conditions or factors (such as race and ethnicity) that may place individuals at an increased risk for progression to more severe disease.
Here is the fact sheet that would be given to you if you received the treatment.
Who should not get them?
Monoclonal antibodies are NOT authorized for use in patients with the following criteria:
Those who are hospitalized due to COVID-19 OR
Who require oxygen therapy due to COVID-19, OR
Who require an increase in baseline oxygen flow rate due to COVID-19 in those on chronic oxygen therapy due to underlying non-COVID-19 related comorbidity
What should I do if I think I need them?
If you have tested positive, reach out to Student Health or Employee Health to discuss with a provider. Here is the fact sheet that would be given to you if you received the treatment.
COVID-19 is stressing me out
It's normal & understandable to feel anxious, especially if you live in an affected community. If you are feeling increased stress or anxiety, please contact Student Health Services at 662-915-7274 or the University Counseling Center at 662-915-3784. Click here  for coping tips.
For more information from the university on COVID-19 response, click here.